Mick Jagger in concert - Melbourne 1973. Limited edition photograph
$

5,000.00 Coming Soon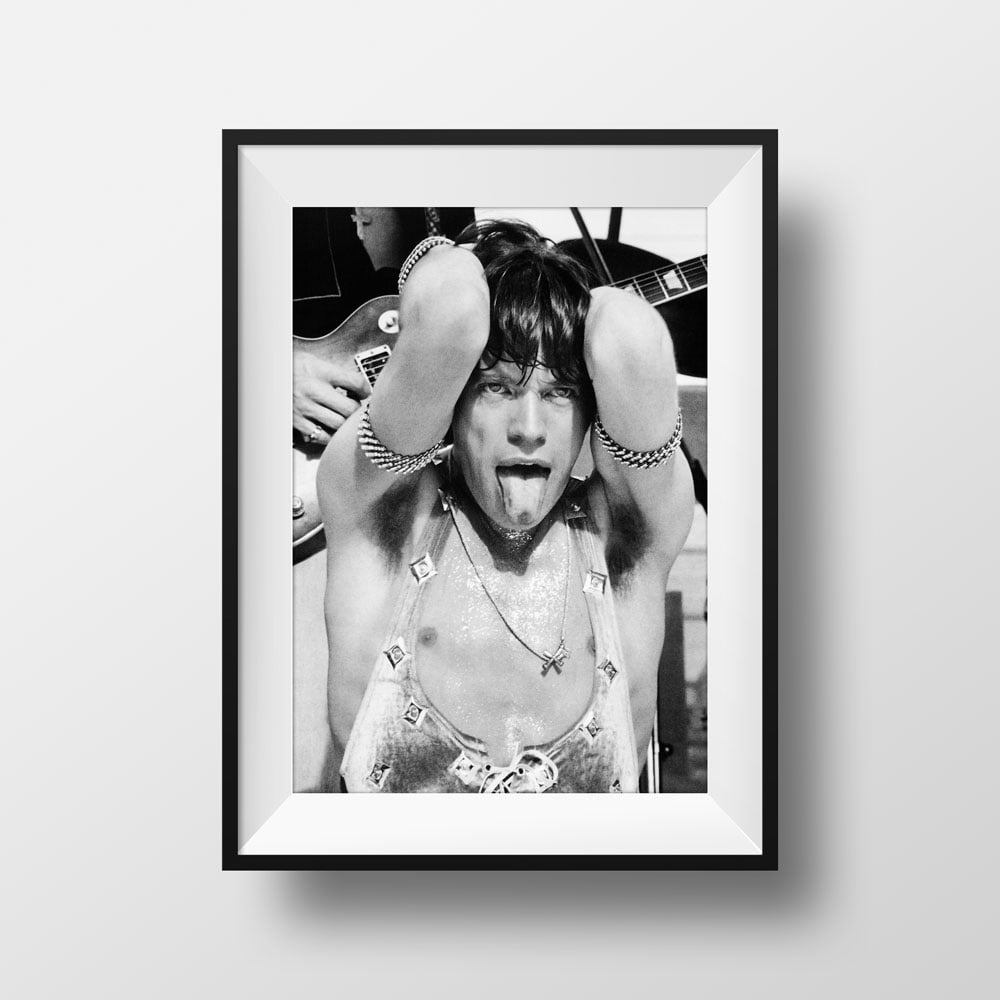 POA- Please contact us for pricing.
This iconic photograph of Mick Jagger is now recognised as being one of the most famous ever taken of the man live on stage (Mick Jagger owns a copy of this photograph). The shot was taken on February 17th 1973 in Melbourne when the band was touring Australia shortly after releasing the seminal album "Exile on main street" – so this shot made its mark around the same time the band adopted the famous 'tongue' logo.
Recently featured on the cover of The National Museum of Australia magazine, the photograph is signed, titled, dated and numbered by the photographer, Richard Crawley.
Printing Stock
The photograph is of the highest quality available and is printed on archival Museo Silver Ragg 300 GSM heavyweight art stock using archival inks. As long as it is displayed correctly this photograph will never degrade.
Dimensions
Available in two sizes:
Large: Image size, is 24 x 21 inches (60 x 54cm).
Large: Paper size is 30 x 24 inches (76 x 61cm), and this can be trimmed to size by your framer.
Medium: Image size, is 16 x 14 inches (41 x 36cm).
Medium: Paper size is 24 x 16.5 inches (66 x 42cm), and this can be trimmed to size by your framer.
Immediately beneath the bottom edge black border the photographer has signed in black pen: 'Mick Jagger in concert, Melbourne'. On the left side is your unique photograph number, and on the right side is signed 'Richard Crawley 1973'.
When the photograph is framed the above information can obviously be made visible or invisible, depending on how the mount board is cut. Your framer will explain this.
Framing suggestions
A black wood frame of appropriate dimensions, pure white acid-free archival mount board with appropriate borders, and acid-free foam-core archival backing board. Your framer will help you with these suggestions.
Alternatively we can supply the photograph framed for you - and if this is done Richard will additionally sign, title, date and number the mount board in pencil. Please contact us for more information about this service, including freight. Or read more about framing here.
The story of the photograph
Each photograph is supplied with the photographer's 'Story of the photograph'. (And in this case it was quite a story!). This is printed on A4 gloss stock and signed by Richard Crawley, giving you all the information about how this iconic photograph came about. Read more about the story here.
Please note that photographs are supplied unframed.