Late summer evening, Dunkeld, 2004 – Limited edition of 100
$

800.00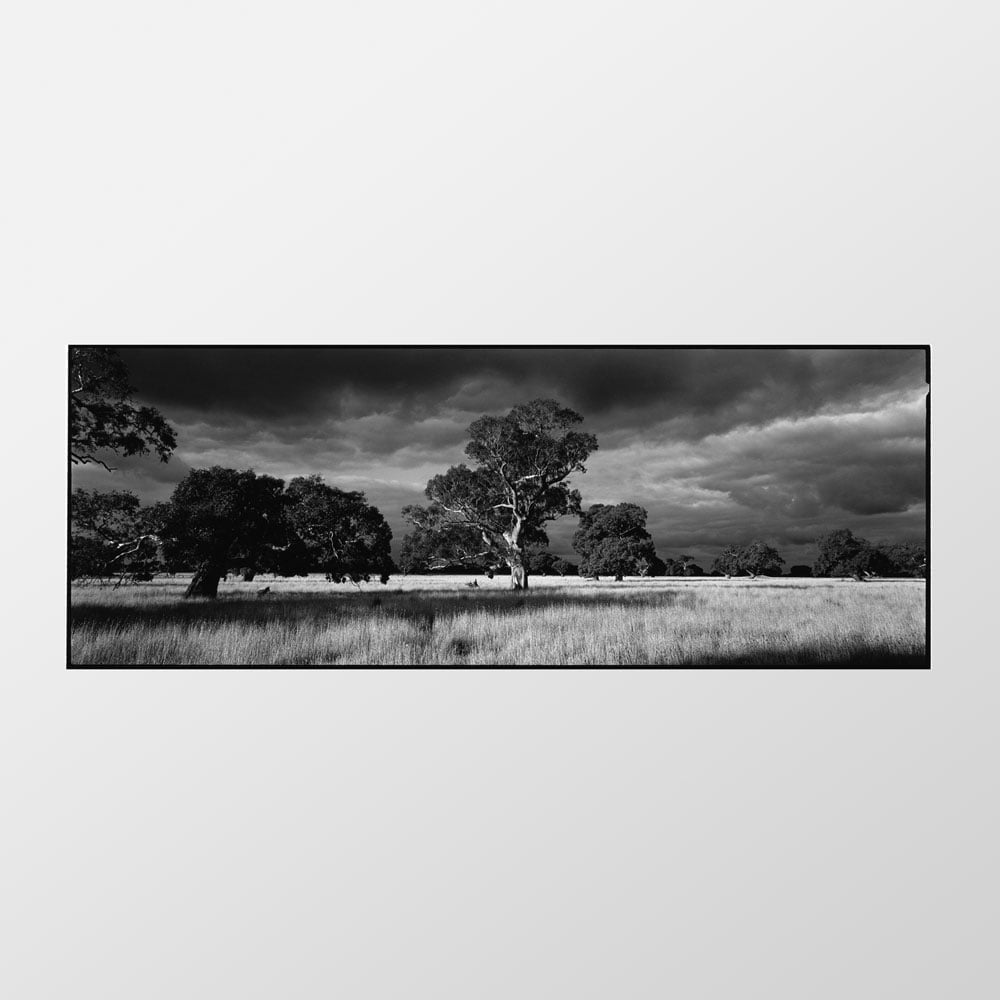 The sun was behind me and suddenly appeared low in th ehoriszon, juts before it was to set. in front of me the whole scene, dominated by a 500 year old Murray River Redgum lit up dramatically. The yellow light accentuating the extroninadry contrast from the bright dry grass to the dark sky.
Using a Hassablad panoramic film camera (note the tell-tale nick in the top right film border), I only had to add a little yellow filtration to balance the tonal range.
Usually making a photograph like this in the darkroom requires a great deal of 'burning and dodging' ( adding and subtracting light), but incredibly – and I say this happens perhaps once in a couple of thousand prints – this was a straight print. So an image with little manipulation – but a great deal of luck.
This photograph is from the hardcover publication 'A Dunkeld Portfolio'.

In late 2002, invited by Alan and Maria Myers, Richard Crawley spent an extraordinary 18 months on a methodical yet meandering photographic odyssey in and around the small Victorian western district town of Dunkeld (population 400), and the surrounding countryside. This resulted in the successful hardcover publication 'A Dunkeld Portfolio'.
Printing Stock
The photograph is of the highest quality available. The print is made onto archival Museo Silver Ragg 300 GSM heavyweight art stock. As long as it is displayed correctly this photograph will never degrade.
Dimensions
Available in two sizes:
Large: Image size, is 36 x 13.5 inches (91 x 34cm).
Large: Paper size is 45 x 24 inches (114 x 60cm), and this can be trimmed to size by your framer.
Medium: Image size, is 24 x 9 inches (61 x 23cm).
Medium: Paper size is 33 x 20 inches (84 x 51cm), and this can be trimmed to size by your framer

Immediately beneath the bottom edge black border the photographer has written in black pen: 'Late summer evening, Dunkeld'. On the left side is your unique photograph number, and on the right side is the photographer's signature and date.
When the photograph is framed the above information can obviously be made visible or invisible, depending on how the mount board is cut. Your framer will explain this.
Framing suggestions
Black wood frame of appropriate dimensions, pure white acid-free archival mount board, and acid-free foam-core archival backing board.
Alternatively we can supply the photograph framed for you - and if this is done Richard will additionally sign the mount board in pencil for you, as well as all titling, dating and numbering. Please contact us for more information about this service, including freight. Or read more about framing here.
Please note that all photographs are supplied unframed.