Children playing the sand dunes, Killarney, 1998 – Limited edition of 100
$

800.00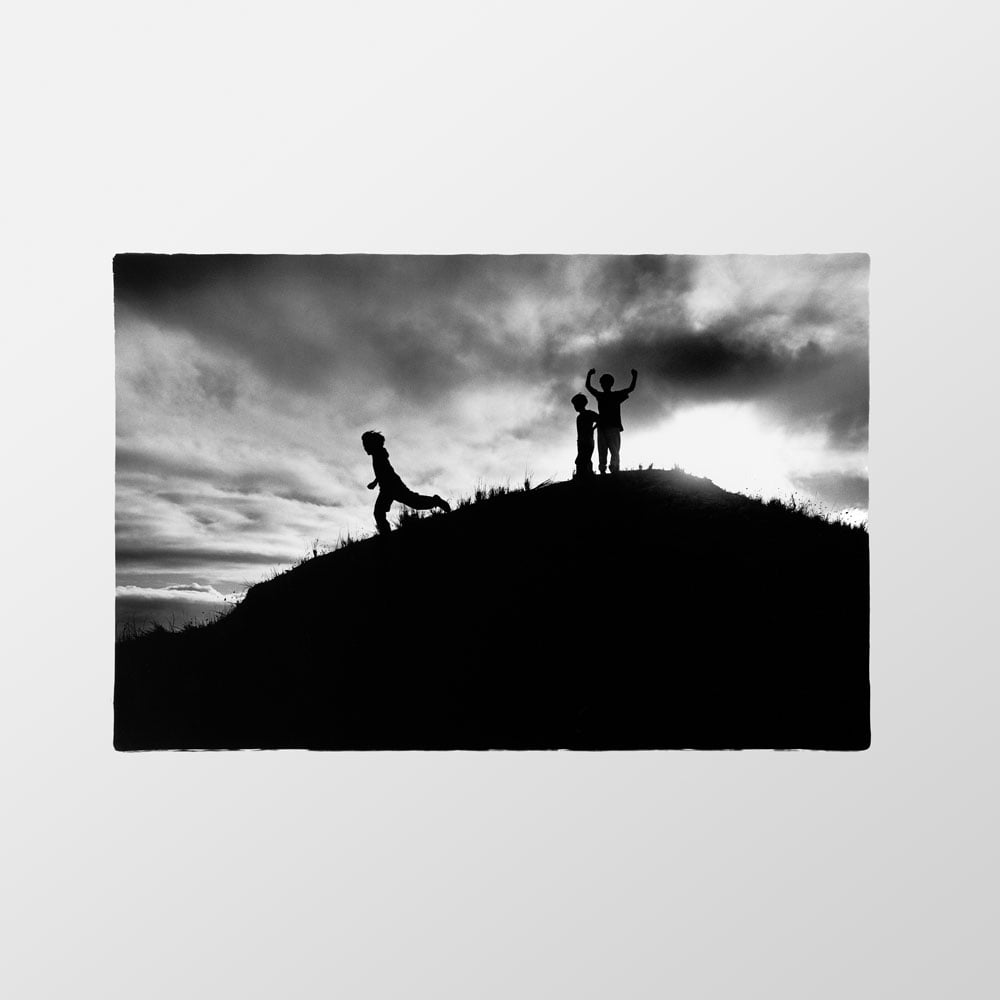 For me there is both freedom and exhilaration in this photograph. It was a windswept cloudly-bright day, and many of the Killarney dunes are super-sized. Running and jumping through these dunes on that day was, for these children, the best thing in the whole world.
This photograph is from the exhibition and book 'The State of Common Life', published in 1999. The exhibition of 84 photographs toured to 12 Victorian regional and metropolitan galleries over the following 3 years.
A signed copy of the book is included with every photograph purchased.

Fiona Christie, Curator and Art Critic wrote, 'The material is both delicate and robust and I think really touches the heart of rural life – not in a nostalgic way but in a direct and unselfconscious way which rings true … anyone and everyone can relate to the subtle poetry captured in The State of Common Life.'
Richard writes about the State of Common Life in the introduction to the book as follows:
I take black and white photographs because that's what I love doing. So it always happens that I photograph where I live, it just seems the natural thing to do – a change of country, town or rural life means an immediate creative boost and the photos start to flow. I guess it is my mission in life to absorb what there is in this wonderful yet terrible, funny but tragic world, and pass it on with my own interpretation.
Surely this is the function of the artist. You know you have to express what effects you, yet you also know your photograph expresses an intangible and fleeting moment that is really beyond comprehension or dissection. I believe it is ones unconscious spirit which makes these creative 'decisive moments', as Henri Cartier-Bresson termed them. Perhaps the photograph is indeed like a dream – a captured meaningful moment hinting at infinite possibilities – and like the symbolic dream can also reveal the subject and the dreamer.
'The State of Common Life' takes its title made from a remark made by Samuel Johnson to James Boswell in 1773 during a tour of the Western Island of Scotland. Effectively the world's first travel writer, Johnson observed that the 'true state of every nation is the state of common life'. This (common) life is the driving force behind my photography.
Printing Stock
The photograph is of the highest quality available. The print is made onto archival Museo Silver Ragg 300 GSM heavyweight art stock. As long as it is displayed correctly this photograph will never degrade.
Dimensions
Available in two sizes:
Large: Image size, is 30 x 20 inches (76x51cm).
Large: Paper size is 36x24 inches (91x61cm), and this can be trimmed to size by your framer.
Medium: Image size, is 20 x 13 inches (51x33cm).
Medium: Paper size is 24 x 16.5 inches (60x42cm), and this can be trimmed to size by your framer.
Immediately beneath the bottom edge black border the photographer has written in black pen: 'Children playing the sand dunes, Killarney'. On the left side is your unique photograph number, and on the right side is the photographer's signature and date.
When the photograph is framed the above information can obviously be made visible or invisible, depending on how the mount board is cut. Your framer will explain this.
Framing suggestions
Black wood frame of appropriate dimensions, pure white acid-free archival mount board, and acid-free foam-core archival backing board.
Alternatively we can supply the photograph framed for you - and if this is done Richard will additionally sign the mount board in pencil for you, as well as all titling, dating and numbering. Please contact us for more information about this service, including freight. Or read more about framing here.
A signed copy of the book 'The State of Common Life' is provided free with every photography purchase. Please note that all photographs are supplied unframed.